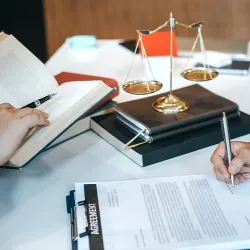 At Hines & Maxwell, PLLC in Cleburne, Texas, our attorneys leverage their unique business-oriented backgrounds to provide a comprehensive understanding of the legal needs of Texas business clients. Our business acumen enables us to represent our business clients in Cleburne and the surrounding community effectively and efficiently.
Whether you're establishing your first LLC or selling a family business that has been operational for generations, we can provide the guidance you need at every stage of the process.
Our expertise in business and commercial law includes:
Business formations such as LLCs
Business disputes
Transactions
Mergers and acquisitions
Business succession planning
Collections
Mediation
Litigation
Drafting, reviewing, and negotiating contracts
Focus on Your Business, We'll Handle the Rest
For most legal matters, it's typically more cost-effective and less time-consuming to avoid litigation. Resolving issues outside of the courtroom also reduces the stress that a protracted trial can impose on clients. We'll develop a resolution strategy that aligns with your business objectives, allowing you to focus on running your business rather than dealing with a trial and the associated costs of litigation.
We aim to help you avoid litigation by properly structuring your business transactions from the outset. With our experience in all areas of business law, our clients benefit from a depth of knowledge that can protect them in any legal matter.
Forming Your First (Or Next) Business
Whether you're a small startup or about to enter into a complex business relationship, it's crucial to choose the right legal entity to achieve your business goals. At Hines & Maxwell, PLLC, we work closely with our clients to understand their business objectives, enabling us to create the business entity that best suits their needs. We'll guide you through the various entity options available in Texas, matching your unique needs with the appropriate entity structure.
Common entity and formation options include:
Sole proprietorship
Closely held businesses
Limited Liability Partnership (LLP)
Limited Liability Company (LLC)
Incorporation (INC)
Series LLC
S Corporation
C Corporation
More Than Just a Legal Perspective
Beyond the lawsuit and asset protection aspects of making a business entity decision, our attorneys understand the importance of collaborating with CPAs when forming business entities. Whether you have an existing CPA or need a referral, our lawyers work with experienced tax professionals to ensure you understand all the available options and choose the best entity for your tax situation.
Strategic Solutions for Business Disputes
Our attorneys are adept at guiding our clients through business disputes. At Hines & Maxwell, PLLC, our primary objective is to avoid litigation whenever possible. Creative thinking and sharp minds can resolve most disputes in a manner that benefits all parties involved.
Serious disputes require unbiased analysis and business-focused decisions. When a dispute can't be resolved outside of court, we are prepared to vigorously represent our clients with a legal strategy that never loses sight of their goals.
We can assist in a wide range of disputes including:
Business and partnership disagreements
Insurance coverage
Breach of contract
Collections
Developing Client-Specific Collection Strategies
Collections are a necessary part of any business. We have represented many of our Texas clients in collecting what is owed to them. Whether an individual or another business owes you money, we will work with you to develop a sound collection strategy.
It never makes sense to throw good money after bad, and our attorneys will help you make a candid assessment of each individual situation. There are numerous options available to help Texas businesses collect on debts owed to them, and we will work with you to choose the option that best fits your needs and goals.
Eliminate the Chances of Future Litigation Our experienced attorneys can assist your business with all of its transactional needs, including:
Commercial leases and contracts
Mergers and acquisitions
Buy-sell agreements
Business entity selection
Business formation contracts
Restrictive stock agreements
Business-related estate planning
Whether your company is planning a reorganization or expansion, it's important to have attorneys experienced in both transactions and litigation on your side. With thorough analysis and careful consideration at each contract stage, our attorneys can help avoid future litigation by ensuring accuracy during the transaction process.
We understand that for our business clients throughout Cleburne and Johnson County, transactions play a key role in development and growth. At Hines & Maxwell, PLLC, we will help you ensure that every transaction aligns with your business objectives while always looking out for your company's best interest.
With meticulous attention to detail and a comprehensive understanding of what it takes to create a thorough, binding contract, we can help you pave your business' path to success.
Know the Right Questions to Ask
Whether you're buying or selling an existing (or soon to be formed) company, our attorneys at Hines & Maxwell, PLLC have the experience needed to guide you through the process.
We have helped our clients buy and sell businesses throughout North Texas and we know the right questions to ask throughout the process. We pride ourselves on helping our clients find creative ways to deal with problems. Whether it's negotiating the initial contract to buy or sell, or dealing with the details that always seem to arise between the contract and closing, we are there to help you each step of the way.